Popular Products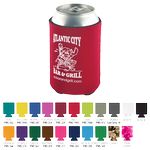 Beverage Insulator Cooler Pocket Can Coo...
Pocket Can Coolie is a collapsible can holder, made with 5mm thick foam laminated with cloth on the inside and out. We will print on both sides plus the bottom. Each side can have it's own unique impr...
$0.51
Promotional products give you the most BANG for your buck when it comes to your advertising needs. Getting your information in the hands of potential customers is what it's all about, and nothing does the job better than promotional products. Studies have shown the promotional products outlast most any type of advertising, such as classified ads, radio commercials and TV spots, and have the ability of staying visible to your customers for years to come. Best of all, there are 1000's of unique promotional products to choose from, and price ranges to meet any financial plan. Whether your budget is $10 or $10,000, we have a vast array of products for you to choose from to accommodate your needs.

We are experts in designing programs using promotional products for your customer acquisition programs, employee incentive programs and tradeshow booths.